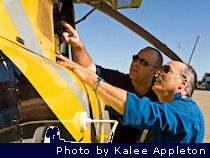 Usually, our students are helicopter owners themselves getting training and ratings to do their own flying eventually. Our goal for clients goes far beyond just getting you certified by the FAA to then go out and learn on your own in the, "school of hard knocks." We prepare you for the realities and contingencies of helicopter flight and for life-long safe operations.
NAC's student helicopter pilots enjoy hands-on and in-depth operationally based intensive training to make safe and effective pilots in the real world of helicopter flying.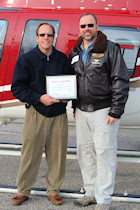 All our students have passed their FAA examination rides with "flying colors," (excuse the pun), and went on to fly successful, accident and violation free flights in helicopters they own or professionally fly.
We provide limited flight instruction on case-by-case basis. It can be conducted at a convenient time and location to you. We do not run a dedicated full-time school of instruction. We do not have a helicopter available for instruction to the general public.
Some of the clients NAC has provided flight instruction to were professional airplane pilots wanting to transition to helicopters and high net worth clients who own helicopters – always focusing on a thorough knowledge and skill base.